---
Security in Social Networking Platforms
October 4, 2016
No Comments
1152
Security in Social Networking Platforms: What businesses need to know.
It's not new news that Social Media Social has quickly become one of the best ways to engage your customers. Here at Paprika we are always suggest our clients to use their Social Media and we are aware that million of dollars are being spent on this Marketing method that wasn't exist twenty-years ago.
Whether you are blogging, updating information about your products or services one thing needs to be always on top of your mind: safety and security.
If you are concerned about security in social media then read further how to take control of your social media accounts and educate yourself.
Scams

Scams are everywhere. You can find them anywhere, in your mail, through email and of course on social media sites. You can identify which links are scam but since social media got better removing such links. But of course, attackers, come up with new approaches once one technique is down. One method is through friends. Generally, people click on something that their friends have shared. A recent scam, is the one creating new profiles using information and photos of legitimate accounts and the attacker sends friend requests on real's person friend list and then starts posting scam articles or messaging friends.

Malicious app

Malicious app have and viruses have also made their way into social networking sites and of course other related apps. Although is not easy to pass a virus through e.g Facebook, employees tend to user their smartphones to manager posts. Especially if they are using other third-party apps such as Hootsuite. If employers, using their smartphones and tables and using them for work related stuff and there's a malicious app installed it can be easily walk through networks of company's.

Human Error

Social Media Training is so important. Employees need to know about the dangers of using social media for anything confidential. People need to understand what kind of links need to click, which friends to accept. They also need to know about security and privacy settings so to lock features that doesn't need to be available to everyone.
While is good to train people on how to use social media, companies also needs to discuss with employees what kind of posts they will share. Another thing, that needs to be address is how many people have access on social media networks. If the company has it's own Marketing Department can be monitored only by them. If it is a small business and everyone has an access then some security issues can be caused.
Make sure you also know who can use your social media in addition to who can post.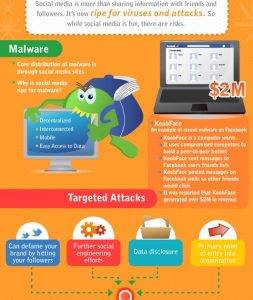 Recommended Posts
October 15, 2021
August 5, 2021
July 12, 2021