These days, running a website can feel like riding an unpredictable rollercoaster, as website rankings in Google fluctuate wildly and unpredictably. The ups and downs, and sometimes steep plunges, have many website owners holding on tight. Unfortunately, Google hasn't been forthcoming with updates or explanations for the wild fluctuations we've observed over the last quarter. Worse still, Google's usual sources of information have left us in the dark, offering false leads or cryptic responses to queries about these changes.
For instance, the popular tool RankRanger — which monitors Google Desktop SERP (Search Engine Results Page) fluctuations — has displayed massive volatility in search results from July 14th to July 20th. However, it seemed to have settled into a relative calm towards the end of the month.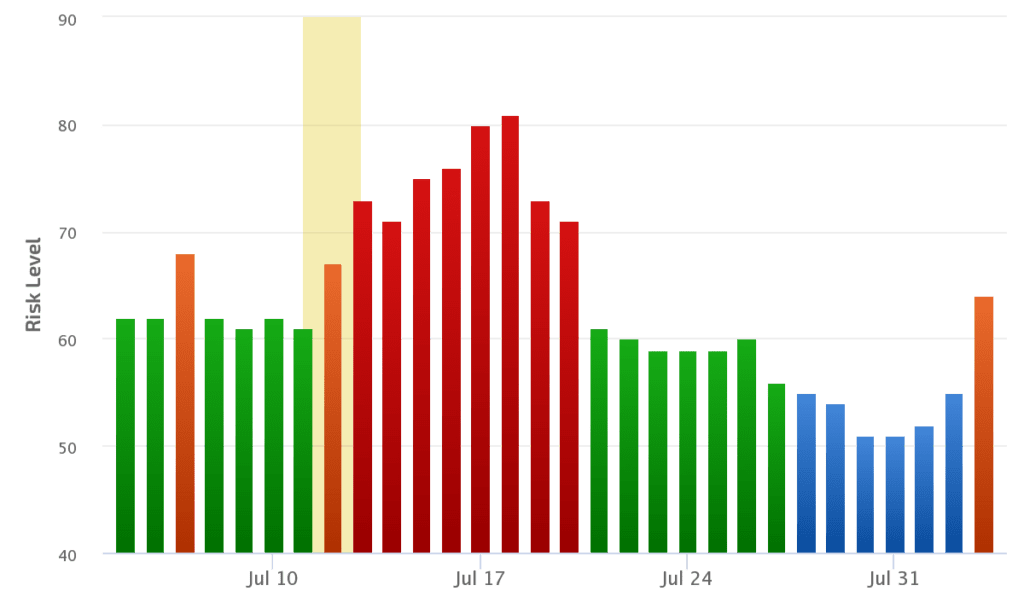 Conversely, another tool called SEMRush Sensor shows continued high-level fluctuations, painting a contrasting picture. Furthermore, CognitiveSEO's Signals tool aligns more with the RankRanger findings, showing less volatility from July 21st. Interestingly, a long-range view using CognitiveSEO's Signals revealed that the three months period from May to July 2023 recorded the highest level of fluctuations in search results in its entire history!
On July 14th, a tweet from Barry Schwartz to the Google Search Liaison account (managed by Danny Sullivan from Google) triggered the expectation of a new update in July. But two weeks later, the Search Status Board report still remains empty. The last confirmed update was the April 2023 Reviews Update, leaving us to speculate with the popular song line, "Yes! We Have No Bananas".
During this period of high volatility, John Mueller released a video titled "Top 3 Google SEO Google Updates", instead of explaining the cause of the big changes. His focus was more on recent mundane changes at Google, including Core Web Vitals, Google Search Console updates, and Google Search Labs testing features.
On a related note, Cyrus Shepard, a Google Search Quality Rater, shared an enlightening experience in his article, I Secretly Worked As A Google Search Quality Rater (You Can Too). In this fascinating piece, he talks about the process of becoming a Quality Rater and the invaluable insights he gained regarding how Google perceives content, user intent, and web page quality.
On July 28th, Google announced changes to the "site names" feature. Prior to the update, site names were determined at the domain level, but this has now changed. Google, however, has not revealed how it decides site names, only suggesting that the strongest indicator for site owners is to use the Website structured data schema.
During Google's Q2 2023 Earnings Call, CEO Sundar Pichai shared some insights into Google's future vision for search. Marie Haynes' article Google's Vision for Search in 2023 and Beyond – Analysis of the Q2 2023 Earnings Call gives a detailed analysis of the call.
In a significant development, Google recently announced that AI-generated customer reviews are now considered spam, as per their new policy for the Google Merchant Center. This has raised questions about Google's stance on AI-generated content, suggesting they may be capable of detecting it programmatically.
All these developments lead us back to the original question: Could the current turbulence in Google search results be linked to the April 2023 Reviews Update? Or has Google implemented a system that is changing search results frequently to reward high-quality reviews better? Hopefully, we'll get some clarity from Google in August!