---
5 Essential Features for your Website Design
May 11, 2016
No Comments
1027
5 Essential Features for your Website Design
So you have a website or you are in the process to get one for your business. Website design can be an overwhelming process, as the main goal is to give your visitors the best experience possible. Having a good website, brings to your business more leads, sales and ROI. If you are a business owner you know that if your customer is happy your are happy as well! So let's start!
[dt_list_item image=""]Clear Purpose of every page [/dt_list_item]
Every page of your website should not only be aesthetically pleasing but it should also have a clear purpose, whether is for a product or a service. This is important for your user experience and also for your SEO. Google, when it comes to ranking, considers the content and the structure of a site. So first, make sure you know the content and the structure of your site. Try to produce some mock up designs before your hit to your Digital Agency or developers of your company.
[dt_list_item image=""] Clear Navigation [/dt_list_item]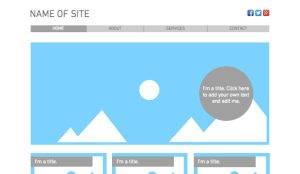 The design of a website's navigation has the bigger impact for your business's website. It can affect your traffic and your search engine results. In addition, it affects user-friendliness. Everything you want to let your visitors know is connected to the navigation. This includes every aspect in your website, from a single URL to your content you have. Every webpage has a horizontal navigation across the top or vertical navigation down the left side. Putting your navigation in standard places, makes your website easy to use. In this way, you will get a lower bounce rate, more visits to your pages and of course higher conversions. In addition, navigation should be easy to understand. Never use long descriptive phrases, e.g "What we sell", you can simply have labels like "Products" or "Services".
[dt_list_item image=""]Security[/dt_list_item]
Security is a must for every website. If you are an E-commerce site, you need to put some effort to protect your clients. A site with an SSL certificate should be a must for your website. The SSL, will encrypt you and your clients (credit card number, social security number).  Your clients will feel secure because they are not providing confidential information where anyone can have access. You may want to check some certificate providers such as VeriSign or TrustE.
[dt_list_item image=""] Social Media Integration[/dt_list_item]
Again and again! Your social Media Strategy is key to success. Make sure your website is integrated with all social media platforms you are using. Promote your presence on your website. Often, people who are coming from a paid advertising and they ended up on your website, they will be willing to find you on Facebook, Twitter. In addition, it doesn't only improve your followers on your page, but it can improve your SEO efforts as well.
[dt_list_item image=""] Mobile Ready Version[/dt_list_item]
Smartphones and tablets are driving an increasing amount of traffic to your website. People that are browsing the web from a tablet or mobile phone they are willing to do, go and find something. If someone is searching for a restaurant he will most probably go there. So, if your website is mobile-ready then your user can easy read your content and engage with your business.
Recommended Posts
October 15, 2021
August 5, 2021
July 12, 2021